International Congress on Narrative Social Sciences Faculdade de Letras
Universidade de Lisboa, 1-4 September 2015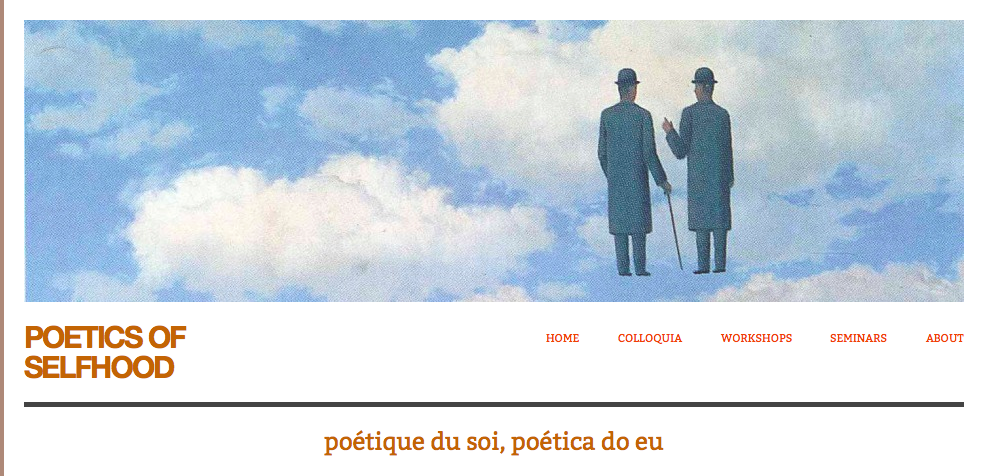 Confirmed Keynote Speakers:
Kenneth Gergen (Swarthmore College, USA)
James M. Day (Université catholique de Louvain, Belgium)
Catherine Dumas (U. Paris 3, Sorbonne Nouvelle, France) Michèle Leclerc-Olive (EHESS, Paris, France)
Miguel Gonçalves (U. Minho, Portugal)
João Salgado (ISMAI, Portugal)
Directors of Confirmed Panels:
Sabina Loriga (EHESS, Paris, France) Elsa Lechner (CES, U. Coimbra, Portugal)
Given the numerous requests received by the Organizing Committee, the team of the research project "Poetics of Selfhood: Memory, Imagination, and Narrativity" (PTDC/MHC-FIL/4203/2012), hosted by the Philosophy Center of Lisbon University, has decided to extend the deadline of the call for papers and panels to be presented in the international interdisciplinary congress devoted to the theoretical and empirical study of "Life Stories" until June 15.
This Congress aims at analyzing and discussing the notion of narrative identity, by fostering a fruitful dialogue between the Arts, Humanities, and Social Sciences. We are particularly interested in contributions focusing on the ways in which the various Social Sciences have undergone a "Narrative Turn"; but we also welcome contributions that strongly value the philosophical, artistic and literary study of "narrative self-identity" in the sense that this creative strand of research constitutes a very rich laboratory of ideas where multiple possible worlds and selves are unceasingly explored and experimented.
Therefore we invite potential contributors not only to assess the impact of the "Narrative Turn" on the epistemological and methodological landscape of their disciplines but also to present specific empirical research illustrating the appropriation of such qualitative, narrative, and hermeneutic approach to social life. Both a sympathetic and a critical perspective on "narrativity" are most welcome, for one must consider in a balanced manner the promise and peril of understanding personhood and selfhood as narrative processes.
Please consider the following, non-exhaustive list of topics of interest:
–  The 'Narrative Turn' within hermeneutics and phenomenology;
–  Theoretical models of personhood and selfhood;
–  Multi/inter-cultural contexts and trajectories;
–  Biography, auto/hetero-biography and fiction;
–  Memory, emotion and embodied cognition;
–  Stories of Trauma, loss, and suffering;
–  Gender, sex, love and narrative identities;
–  Justice, law and political selves in narrative conflict;
–  Ethics, religion, and spirituality;
–  Storytelling, therapy and well-being;
–  Art, literature, and performance;
–  The epistemology and methodology of Social Sciences.
Every participant may submit two different types of proposals:
Papers: oral presentations with max. 20 minutes;
Panels: joint presentations of max. 3 papers with thematic coherence.
Every submission may be written in English, French, Spanish or Portuguese, and will be subject to a peer-review process. It should include: Title,  Abstract (max. 300 words), Keywords (max. 5), A separate sheet including the authors' affiliation and a short bio (max. 10 words) with main topics of interest and publications in the area.
For any queries and for the submission of your proposal please contact: poeticselfhood@gmail.com
Important dates for this event:
 Submission of papers and panels until June 15, 2015
 Notification of acceptance by July 1, 2015
Congress program by July 30, 2015
Early-bird registration until August 1, 2015
Further information on the congress venue, keynote speakers, accommodation and travel recommendations, and more, will be available soon on our blog.
Organizing Committee
:
Gonçalo Marcelo (FEG, UCP, Porto) / CECH, U. Coimbra) Marta Ceia (Centro de Filosofia, U. Lisboa)
Maria Helena Jesus (CLEPUL, U. Lisboa)
Martinho Soares (CLEPUL, U. Lisboa / UCP, Porto)Paulo Renato Jesus (Centro de Filosofia, U. Lisboa)